Independent Optometrist
Are you ready for your next eye check?
For your next sight test why not consider a friendly, relaxed environment where the focus is on taking the very best care of your eyes.
You are unique and so are your eyes, they will really appreciate our independently minded approach to eyecare.
At Carterton Opticians you can be sure of high quality care combined with a fantastic selection of fashionable glasses, including top designer brands.  Combined with high quality precision optic lenses you'll be looking fabulous and seeing great in no time.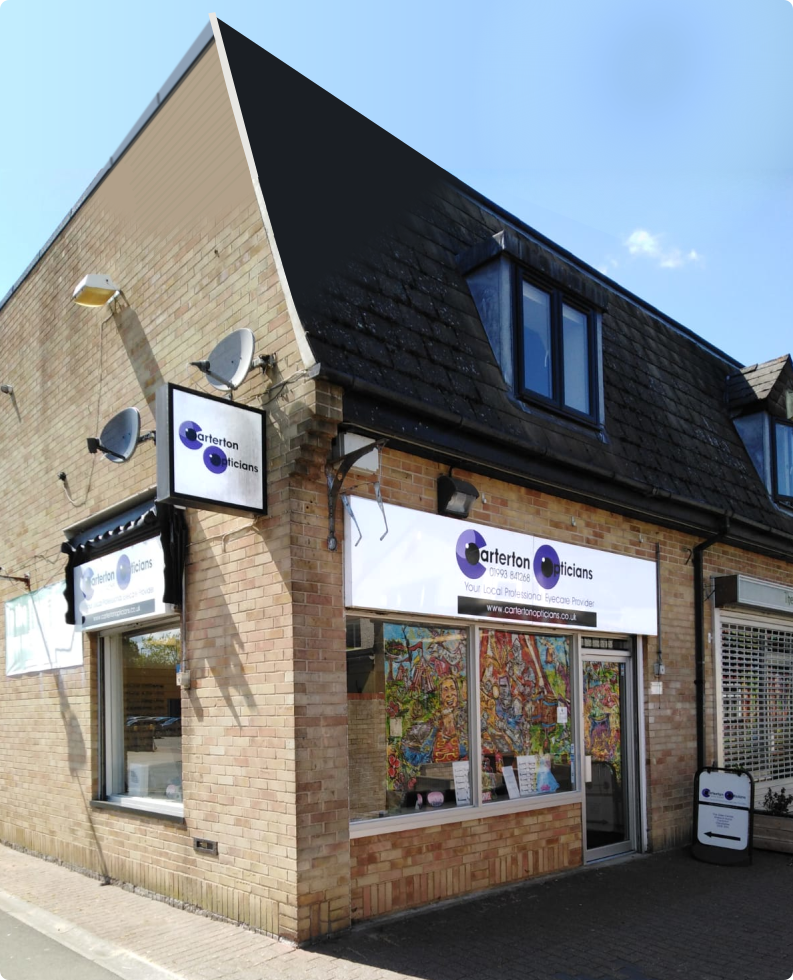 Adam Hingley
Optometrist
Adam Hingley has over 20 years experience in optics.
"I have found that being the owner really makes you consider your priorities in how you care for your patients.  I don't have to meet sales goals or justify matters to a manager.
If I provide the best care and advice possible, I know I will create lifelong relationships."
Donna Bee
Optical Manager
A familiar face at Carterton Opticians, Donna has been with us for over 11 years.  Always friendly and cheerful, she loves making sure that people are well looked after at every visit.
"It can be a familiar face or a first time visitor, but I really love when you know you've made someone's day.  Perhaps they have a great new pair of glasses or getting contact lenses for the first time, but they leave with a smile on their face, that's when I know I love what I do!"
NHS Sight Tests FOC
Includes Retinal Photographs.
At Carterton Opticians, we believe in a relaxed, friendly testing environment where you are treated as a person and not just a number. Book in today and you will see the difference.
Private Eye Examinations £30
Includes Retinal Photographs
Regardless of if you get an NHS sight test or have to pay for a private examination, we give you the same, considerate care. Speak to our lovely Optical Manager, Donna to make an appointment.
Contact Lens Examinations £40
At Carterton Eyecare we take the time to make sure you are safe to wear contact lenses, teaching you the necessary skills to insert and remove the lenses proficiently.
Address
Giles Centre the Giles Centre, Alvescot Rd, Carterton OX18 3DH
Opening Times
 Mon: Closed
Tues: 9am – 5pm
Wed: 9am – 5pm
Thurs: 9am – 5pm
Fri: 9am – 5pm
Sat: Alternating Saturdays are closed. 9am til 3pm
Sun: Closed
Dear Donna + Adam,
Thank you so much for having been the most wonderful opticians and friends over the last couple of years. We haven't really + luckily needed much from a doctor or a dentist but we have regularly and reliably needed to sort out our eyes. Whether it has been glasses contact lenses or health checks it has always been fun to come + visit you two. Sometimes when the boys were little and it was the school holidays you were our day's activity!
Now that we are off on our 6 months travels we have enough lenses in our backpacks to be able to see the beaches of Greece, the goal posts of Japan and the mountain views of Bhutan. Plus we have glasses for the bits in between waking up + going to sleep. Thank you for helping us work out all of that. Contact lenses were a matter of logistics.
Recently you have gone above + beyond to deliver things to the house and post things to us. We were very grateful for all of that as I'm sure it isn't really part of Specsavers or Boot's service.
That's why it is so nice to make friends with ones optician. We will really miss you. And Carteron which always made me feel as if it was in a town centre in Holland.
Thanks for everything and if either of you ever find yourselves in New Zealand please do look us up.
With Love + best wishes from